The Boutique Du Capitaine
is located at 4734 chemin Royal, village of Saint-Jean-de-l'Île-d'Orléans.
Cross the bridge, continue straight for 20 kilometers. The shop is just opposite the Saint-Jean pier, on the main road.

Come and taste all the delicacies of Du Capitaine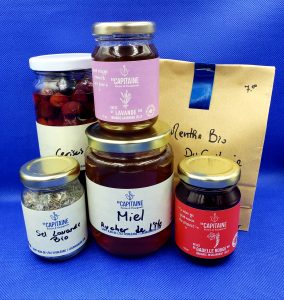 At the store, you will of course find all the traditional vinegars Du Capitaine, as well as the homemade products made from our organic blackcurrant and other berries grown in smaller quantities. Concocted with love, these products make up a large part of the Du Capitaine lineup.

We also offer many complementary products that will please you.
Take a tasty break with a view
Stop, take a moment to taste all these delicacies from our land. You will enjoy a view of the river under our veranda or on our back terrace while admiring the small waterfall.
A peaceful decor, which people appropriate with great pleasure while consuming the spirits Du Captain Joe.
Your turn to discover it!